♥ © Copyright of My Women Stuff
Go here for full text and images: If you have a specific skin issue that needs targeting then Bobbi Brown has the Remedies
Now that we all have our skincare in place, brands are coming up with boosters. These are usually products, like serums, that perform a specific function – to give your skin that boost it needs, based on what you need.
Bobbi Brown launched 6 of these targeted solutions, depending on what your skin needs. I know it feels like we were just talking about Bobbi Brown yesterday, but that was a bit of an impromptu post haha!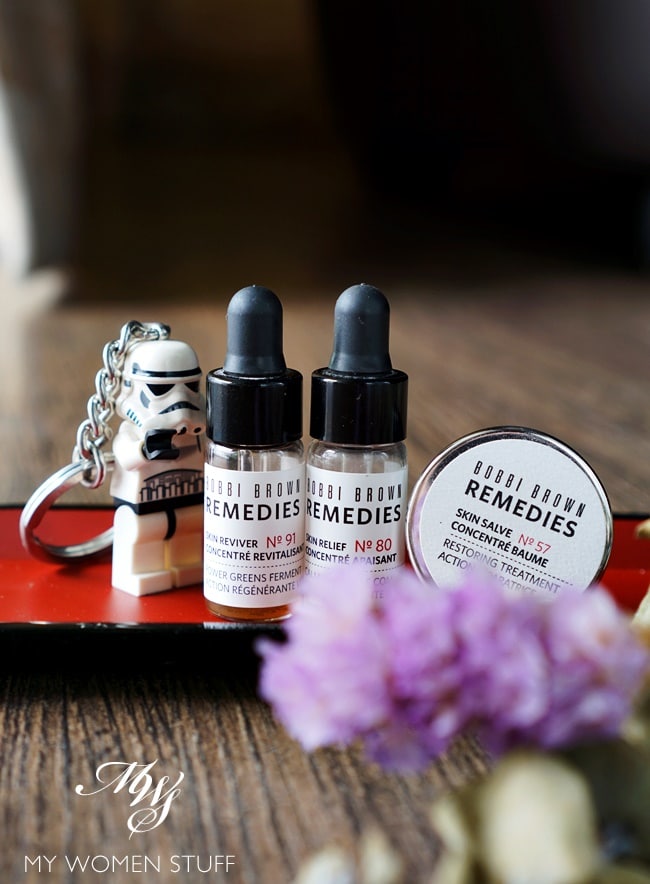 The Bobbi Brown Remedies come in 6 versions, to target 6 different skin problems you may face. They are:-
Skin Clarifier No. 75 – to target pores and blemishes, to balance oil and to unclog and clarify pores
Skin Reviver No. 91 – for dull, tired skin, to energize skin and protect from environmental aggressors
Skin Moisture Solution No. 86 – for dry, parched skin to help increase skin moisture factor
Skin Fortifier No. 93 – for loss of elasticity, to help repair skin barrier
Skin Relief No. 80 – for redness and irritated skin, to calm and quiet your irritated skin
Skin Salve No. 57 – for chapped and cracked skin, to protect and provide a barrier to help skin heal
A few months ago, I was sent a limited edition Bobbi Brown Remedies Recovery Rescue Kit mini set with 3 little samples, so I could have a go at them, to see what I thought. These mini sets are available for sale for a limited time in stores, so ask if they still have them, if you're interested. As for me, here's what I thought, after I'm almost finished with these – figured I better get going, before I had nothing left to photograph! LOL!

**Read lots more & Share your thoughts here**
The post If you have a specific skin issue that needs targeting then Bobbi Brown has the Remedies appeared first on My Women Stuff. If you're seeing this message on a site other than an RSS feed reader, the content is stolen.