♥ © Copyright of My Women Stuff
Original Full Post is found here: Thank you for coming to the #MWS10 Luxury Makeup Party with Chanel!
Hello peeps!
I did a brief round up of the #MWS10 party I held with Jo Malone London that it would be remiss of me to not give Chanel a similar tribute because their generosity blew me out of the water!
Just over a week ago on 5 August 2017, I held the #MWS10 Luxury Makeup Party generously co-hosted by Chanel Malaysia in conjunction with my 10 years of slogging at the blog. It was held at the brand new Chanel Beauty Boutique at KLCC (at the concourse area, if you're wondering where it is) and much to my surprise, Chanel had actually closed the store just for me! Ok, us. But who's counting!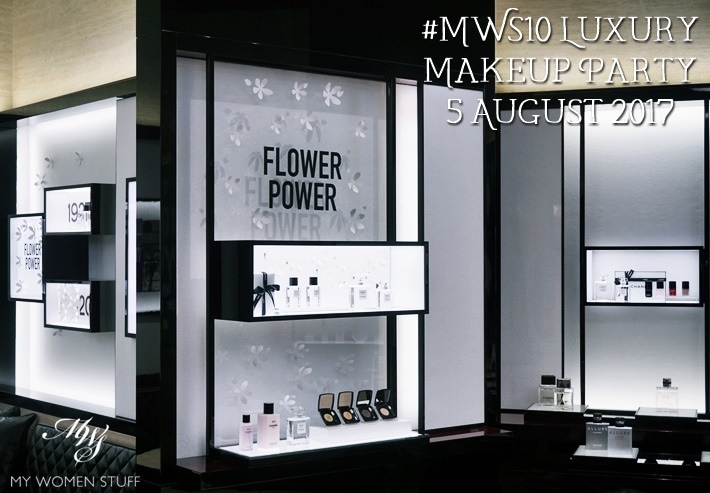 We'd earlier agreed that because it was a Saturday, and therefore a busy time in store, the store would remain open to the public. I told everyone to flash their special invitation, so we can be sure that only invited attendees would get the special treatment prepared for them.
So, imagine my surprise to arrive at the store at 10am, to see the "Closed for Private Event" sign up, alongside barricades! Attendees had to check off their name at the entrance, and I know we disappointed a few potential customers who were wondering who this bloody upstart was, spoiling their Saturday morning shopping!

Wah, as I would say in local colloquialism, it was a "syiok sendiri" moment LOL

For those who aren't sure what I'm blabbering on about, it is this party that I issued an invitation for. I had space for 11 readers to join my friends and I for a special little pampering morning at Chanel, where 20 of you were quite literally given the run of the store and pampered with makeovers, drinks and canapes. So that was fun

**Read lots more & Share your thoughts here**
This post Thank you for coming to the #MWS10 Luxury Makeup Party with Chanel! was first published on My Women Stuff. If you're seeing this message on another website other than an RSS feed reader, the content is stolen & should be reported.